Your professional stay at the Alizé Grenelle
Posted in Hotel le 25 April 2021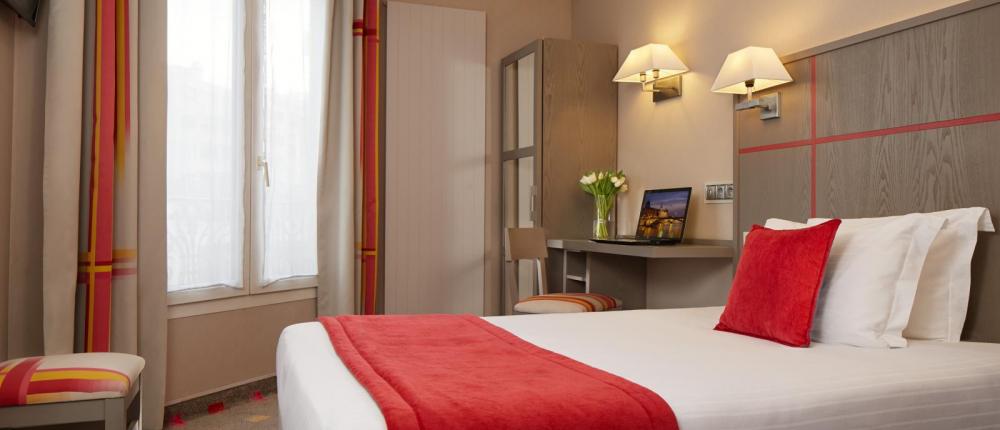 More than ever, when travelling on business, you now need calm, serenity and an excellent standard of service. Your Hotel Alizé Grenelle remains open and guarantees you a personalised welcome in complete safety due to our strict observance of the current health measures. Discover the advantages of our establishment's location!
Your comfort during your professional stay
At the Alizé Grenelle, we have chosen to make our single rooms into truly inviting havens for our guests on business trips. You will find there, amidst the refined and warm decor, a large and comfortable bed, a workspace, free WiFi, a trouser press so you can always be impeccably turned out, plus a safe for your laptop. Breakfast can be served in your room and our partnership with the neighbouring restaurant L'Epopée guarantees you can enjoy well-balanced gourmet meals. Finally, with our check-in from 13:00 and late check-out policy, your arrival and departure will run smoothly regardless of your schedules and constraints.
An ideal location
Due to our ideal location at the heart of a dense public transport network, with the Hotel Alizé Grenelle as your base you'll be able to move quickly and easily throughout Paris and its surrounding area. You will also find secure parking just 50 metres from our establishment. A few minutes away are the André-Citroën and Javel quays, home to business centres, while the Maison de la Radio and the Hôpital Européen Georges Pompidou are also within easy reach. Want to commune with nature and unwind for a few minutes? Head to the Parc André Citroën, a delightful green space by the Seine that boasts exotic greenhouses and expansive lawns.
More than ever at this difficult time, your Hotel Alizé Grenelle team welcomes you for a relaxing professional stay. Practical, comfortable, warm, our establishment will do everything possible to help you forget the current situation.
******
---
Hotel Alizé Grenelle, a 3-star hotel in the heart of Paris located near the Eiffel Tower